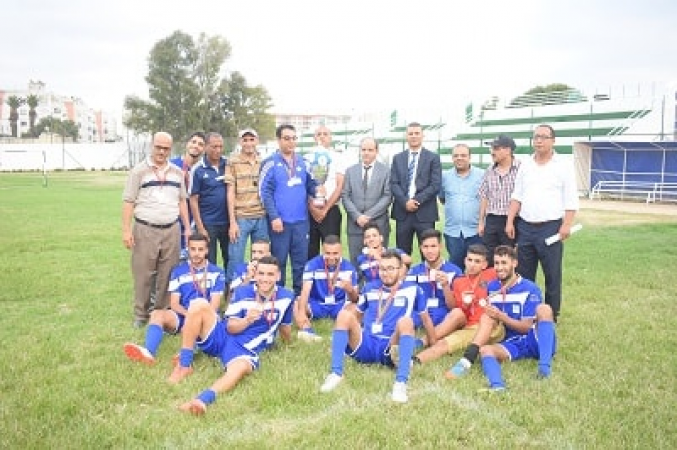 After the qualifying phases that have taken place since March, the Aïn Borja Sports Complex in Casablanca hosted, on Tuesday, July 24, the four finalist teams, who competed for the trophy of this 23èmeedition, demonstrating perfect synergy and high discipline.
During the first semi-final, the team from the Oued zem Formation Complex eliminates the ISTA My Rachid team on penalties for a score of 6 to 4.
The second semi-final was played between the trainees of the ISTA Es-smara and those of the ISTA Polo Casa. Despite their calm play at the beginning of the match, the Casablanca players proved their stubborn training, winning the match on penalties, 6 to 5.
After having passed the heats, the trainees of the CF Oued zem and those of the ISTA Polo Casa met on July 25 for the Final. This is a final that was refereeed for the first time by a woman. A game that was marked by a lot of suspense and spectacle.
A magical evening with a totally phenomenal Oued Zem team! CF Oued Zem players fought for the trophy with a prestigious victory (4-3). They win the prize of this 23èmeedition of the tournament and thus realize their 2èmetrophy of this tournament. This prize was awarded to them by the OFPPT's Central Directors, alongside the President of the Sports Association of the Office de la Formation Professionnelle (ASOFP), Mr BENSAGHIR.
The awards ceremony was preceded by a talent show, a gala match bringing together former football players and journalists. Thus, several national football personalities (HANAT, former President Raja; BENMANSSOUR, President of the Association SaddakkaWaRiyada ; Hassan NADER, Jalal FADEL, Abdelmjid SHAITA, former WAC players as well as Mustapha KHALIF of RAJA) all took part in this exceptional gala match.